An IN-PERSON transformative, soul-connecting, be forever changed, uplevel your life, experience!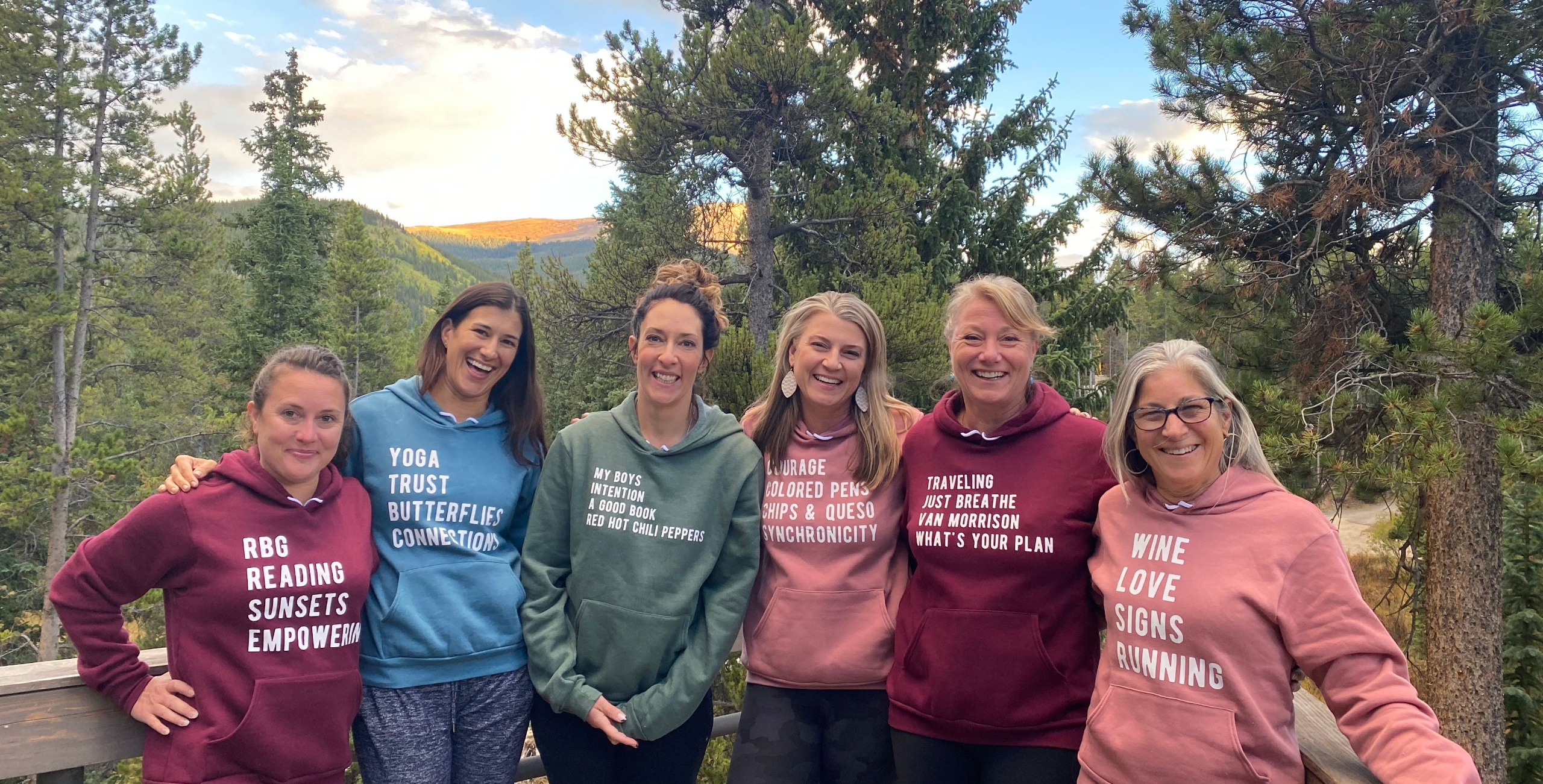 ❤️ Are you ready to move forward in your life with clarity and a sense of empowerment?
❤️ Are you ready to FEEL ALIVE again?
❤️ Are you ready to feel grounded and certain within yourself?
❤️ Are you ready to stop your old patterns and create new, life-giving ways of being?
❤️ Are you ready to give yourself the permission your soul so desperately wants you to give: to step into the wholeness of who you are and become who you are meant to be?
Join me and a small group of courageous women this September for an incredible, life-changing retreat.
I'm Ready!
We will gather at a luxurious mountain home just minutes from Breckenridge, Colorado. The home sits on nine forested acres and backs up to a national forest with beautiful hiking trails.
"I loved it! The mountain home was very welcoming, which created a comfortable and warm environment with enough space to spread out."
- Lisa K.
The retreat will be an oasis of mind, body, and soul nourishment with the express purpose of releasing, rewriting, recentering, recalibrating, reclaiming, reconnecting, reassuring, renewing, and refreshing your sense of self and purpose.

Release What Holds You Back:
You are not the stories or circumstances of your past, nor are the stories you create about the future true, they haven't even happened yet. It is time to powerfully release the stories that cause self-doubt, worry, stress, and overwhelm. It is time to release what is holding you back in your career, relationships, and other areas of your life.

Rewrite Your Story:
Connect with Your Inner Wisdom and together, you will write your Hero story. This story of Truth will powerfully carry you forward into your life with a stronger, more grounded footing, ready to lead your life with purpose and empowerment.

Recenter Yourself:
Through meditation, yoga, guided hikes, coaching circles, and aha moments, you will leave feeling centered and aligned with your authentic self, wise self.

Reclaim Who You Are:
It is time to reclaim all parts of you that were lost along the path of your journey so that you can powerfully walk forward with a deep sense of strength and purpose.
Reconnect with You:
There is a voice inside of you, the wisest part of you that is connected to Spirit. Spend four days connecting to Source inside of you and watch the magical unfolding happen.
Renewed and Refreshed Sense of You:
Ahhhh. There you are. Present. Free. Calm. Powerful. Certain. Ready. Your life is waiting for you to meet Her from this place. It is time.
After experiencing a worldwide pandemic and forced slowdown, life has sped up and is moving faster than ever before. The time is now to step off of the speeding train and step into your power.
I am creating a chrysalis and inviting you to join me and rediscover your wings.
I am inviting you to step off of the train, or step out of the hamster wheel, or jump off the tracks, and give your whole self permission to pause, calm down, rest, heal, and renew.
You have a light inside you that is so ready to shine. There is Light and Love all around you that wants you to receive all of it into your heart. You are so worthy of this experience.
Your life is waiting for you to meet her with a sense of purpose and empowerment that only the Authentic YOU can embody.
Be ready to leave with joy, love, vitality, and clarity in your heart. Everything is possible when you meet your life with the deep sense of knowing that YOU are the One you've been waiting for.
Rachel K.
"Take me back there! I regularly meditate on being back in this space with all of these amazing women! I didn't know what to expect going on this retreat, zero expectations. I am so lucky to have had the opportunity to attend. It changed me forever."
Lisa K.
"There was safety within myself and with the group. Jill set the ground rules regarding conversations, and established a feeling of safety and respect. We didn't talk over each other and instead we listened intently to what each person had to say. I've started to implement that into my conversations!"
Logistics
Monday, September 18th: We will kick off the retreat with our opening ceremony at 5:00 pm followed by dinner. You are welcome to arrive anytime that day and enjoy the hiking trails, meditation room (pictured here), hot tub, or go to town and enjoy Breckenridge. Our chef will have a light appetizer and mocktails ready for us at 3:30pm.
Tuesday, Wednesday, and Thursday: I will guide you through sessions of deep releasing and powerful awakening. We will do mindfulness hikes, yoga, fire time, and more. Dedicated alone time for reflection and contemplation is scheduled into each day. You will also have time to create authentic connections with the other amazing participants.
Our closing ceremony will be on Thursday night.
Friday, September 22: This is checkout day. Breakfast will be provided.
Our very own chef will prepare nourishing, healthy meals for us. (All food allergies will be accounted for.) The retreat home will be alcohol and drug-free. All meals from Monday dinner to Friday breakfast are included.

This retreat is open to only 5 women. Each participant will have her own room. I will assign the bedrooms on a first-come basis. First to register gets the primary bedroom with ensuite bathroom.
Your investment includes meals, your stay, and a life changing experience. You are responsible for your own travel to the home. Payment plans are available.

Coming Home to Yourself...
It's about cultivating the safety and security that ultimately we can only source from within to help fuel the courage and determination we desire to move us forward toward the life we want to create for ourselves.

Join me in September and come home to yourself, to your heart and soul's desires, to your belief and trust in yourself.

When women come together, shift happens. Together we will create profound shifts within ourselves and each other.
Imagine what is possible for you and your life, when you believe in, and trust in your whole self!

Is it September yet? I'm so ready to welcome you home! Are you?
I'm Ready!